People usually succumb, when they see how many books I have, to an apparently irresistible compulsion⎯the one that instructs them to ask me if I've read all of them. I like to turn to them with a nonplussed frown, shake my head, and say, "ew⎯no."
However, for this blog post, it is the inevitable follow-up question that concerns us⎯namely, Where did I get all these books? It's a simple question, but most book people⎯i.e. book dealers and book collectors⎯when put to it, won't give you a straight answer.
The question arises innocently enough. In the midst of a friendly chat with your neighborhood bookseller, say, you wonder aloud where he happened to acquire this five thousand dollar book he keeps boasting about. He steps back. You notice the smile vanish from his face. He narrows his eyes. "Why," he asks, "do you want to know?"
Of course, not all book people are this cagey about where they get their books⎯but the ones with the really good stuff usually are. This tendency does not, however, prevent the same people from gloating about their amazing book finds. They will happily tell you about the signed Henry Miller they got for a dollar at a thrift store last week. Which thrift store? you ask. Well that's the one little detail, it inevitably turns out, they just can't remember. Likewise, if a library sale starts on Wednesday, a book person will tell you it starts on Friday. And if there is a members-only preview sale the night before, a book person will tell you there isn't. 
The point is, book people tend to guard their sources and methods rather jealously. So what I'm about to do is somewhat heterodox. I took a picture of a section of my bookshelves and I'm going to describe the provenance⎯to the extent that I can recall⎯of each book depicted therein. You'll know where I got (some of) my books. You can trust me.
Here's the shelf: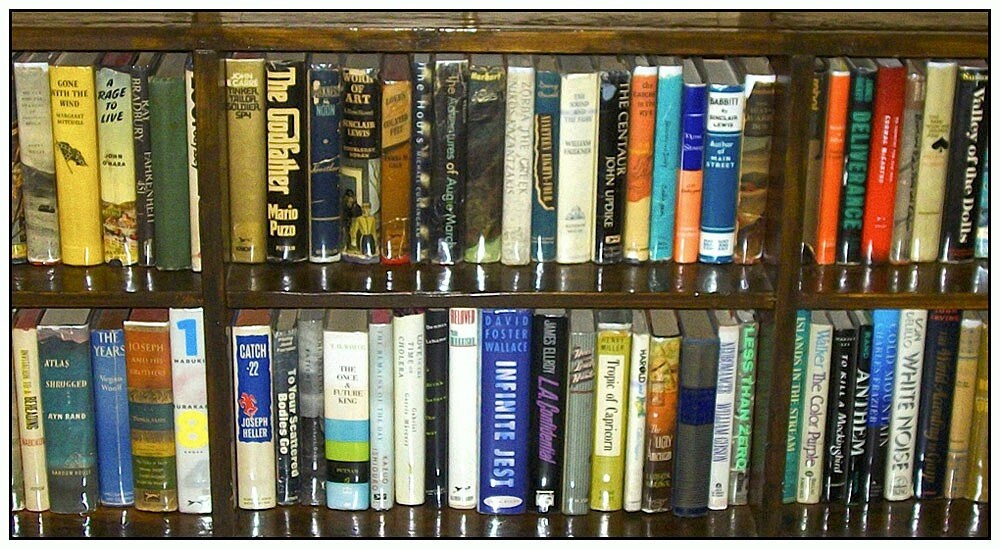 There were a handful of books here that weren't important enough for me to remember where they came from. I've blacked them out. This, then is our sample: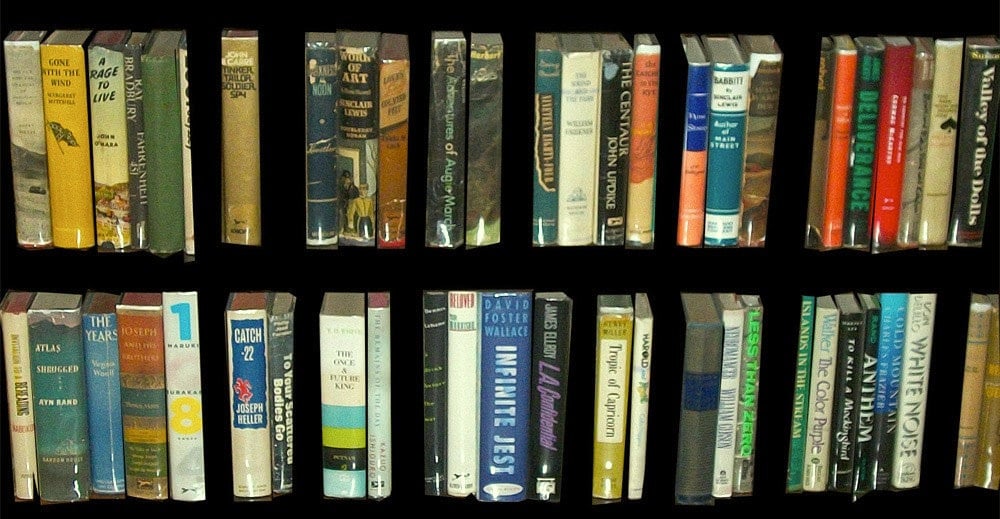 For the remaining fifty-two books, you can see the color-coded breakdown in terms of provenance below.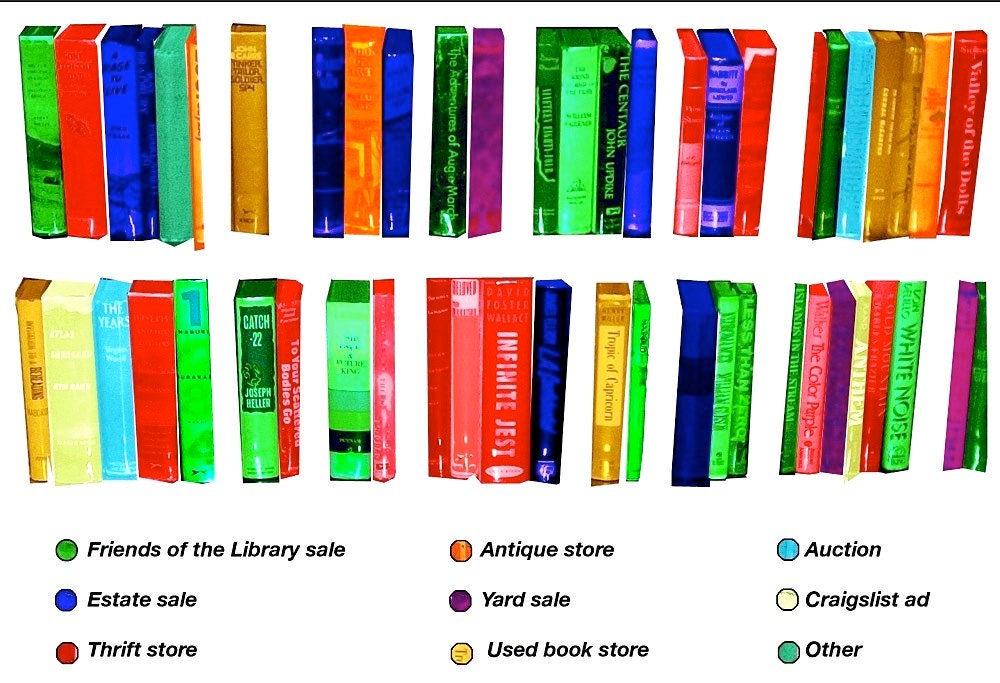 With a sample size of just fifty-two titles, this survey sketches out only a very rough picture of where the books come from. This particular sample seems to skew heavy on thrift store books and light on estate sale books. Note that very few books were purchased from other used book stores, and none were purchased new.
Of course, book dealers with a physical store have that additional and more enviable channel of acquisition: via customers selling (and lugging) their books directly to the dealer. Entire libraries are bought and sold in this manner. 
The specific title-by-title details are noted below, for those who are interested. 
(Big Sur and the Oranges of Hieronymous Bosch - Friends of the Library sale; Gone with the Wind - Thrift store; A Rage to Live - Estate Sale; Fahrenheit 451 - Estate Sale; The Fountainhead - Grandfather's basement; 2001: A Space Odyssey - Antique Store 'Going Out of Business' sale; Tinker Tailor Soldier Spy - Used book store; The Godfather - Estate Sale; Darkness at Noon - Estate Sale; Work of Art - Antique Store; Love's Lovely Counterfeit - Estate Sale; The Hours - Friends of the Library store; Dune - Church yard sale; Nineteen Eighty Four - Friends of the Library sale; The Sound and the Fury - Friends of the Library sale; Catcher in the Rye - Estate sale; Nine Stories - Thrift store; The Wayward Bus - Thrift store; i, Robot - Thrift store; Breakfast at Tiffany's - Friends of the Library sale; Deliverance - Auction; No Country for Old Men - Used book store; Down and Out in Paris and London - Used book store; The Man with the Golden Arm - Antique Store 'Going Out of Business' sale; Valley of the Dolls - Thrift store; The Hobbit - Friends of the Library sale; Invitation to a Beheading - Used book store; Atlas Shrugged - Craigslist ad; The Years - Auction; Joseph and his Brothers - Church charity shop; 1Q84 - Friends of the Library sale; Catch 22 - Friends of the Library sale; To your Scattered Bodies Go - Thrift store; The English Patient - Thrift store; The Once and Future King - Friends of the Library sale; The Remains of the Day - Thrift store; Love in the Time of Cholera - Thrift store; A Drink before the War - Thrift store; Beloved - Thrift store; Infinite Jest - Thrift store; LA Confidential - Estate Sale ; The Heart is a Lonely Hunter - Used Book store; Tropic of Capricorn - Used book store; Harold and Maude - Friends of the Library sale; Eyeless in Gaza - Estate sale; Neuromancer - Friends of the Library sale; Less than Zero - Friends of the Library sale; Island in the Stream - Friends of the Library sale; The Color Purple - Thrift store; To Kill a Mockingbird - Yard sale; Anthem - Craigslist ad; Cold Mountain - Thrift store; White Noise - Friends of the Library sale; The Sun Also Rises - Yard sale)